I was listening to a recent episode of the Happiness Lab podcast, when I first heard this powerful re-framing of our current situation: "It's not social distancing," said the guest, "it's physical distancing."
I cheered. It's exactly what I need to hear right now. Despite needing to stay physically apart, we all need to connect socially.
Since then, the phrase "physical distancing" has been displacing "social distancing" all over. In Canada, both our national news broadcaster (the CBC) and our chief medical officer have committed to using the new phrase.
So often, we view technology as isolating—witness the horrible dystopia of the Facebook VR demo—a barrier to maintaining real human contact. However, we don't have to use technology like that. We believe strongly in technology's power to improve our connection with one another.
One of our favourite ways for enabling social connection lately has been to host virtual movie nights with friends and family. We use video chat, and a web browser plugin called "Netflix Party".
"Netflix party" is a plugin for the Chrome web browser that syncs Netflix video for everyone in the same Netflix party. This makes it much easier to have a virtual "movie night" with friends and family.
Amy and I know the challenges of virtual movie nights intimately. For the first two years of marriage, Amy and I lived in different cities as she finished her PhD. On our free nights, we would watch movies together, doing countdowns (4-3-2-1-Press PLAY!) and calling out time indexes to each other to get the show in sync between our distant living rooms. We'd finally get it just right, only to have to do it all over again whenever we took a bathroom break, or grabbed a snack.
Netflix Party solves the problems we used to have with our virtual movie night. If one person starts or pauses the video, it starts or pauses for everyone. There's a chat bar on the screen for making silly comments about the show, but we usually pair it with a video chat instead, throwing everyone's face up on the screen next to the movie. Now, this is still a little tricky (everyone has to mute their video calls while the show is playing, or there is a cacophony from the multiple shows), but we unmute when we take breaks, and between episodes.
Recently, we hit upon an improvement to our virtual video nights: The Toddler Cam. To keep our toddler's attention one night, we called in to our video call on a second phone, muted the sound and microphone, turned on Guided Access and handed it to our girl. Suddenly, she became the star of the show, roving around the living room with the mobile camera, making faces at her aunts, uncles, and grandparents. The family made faces back, and she became the second star of the show. It was hilarious.
Since then, we've been adding the Toddler Cam to virtually all of our
video calls (because honestly, she will end up in the call anyway).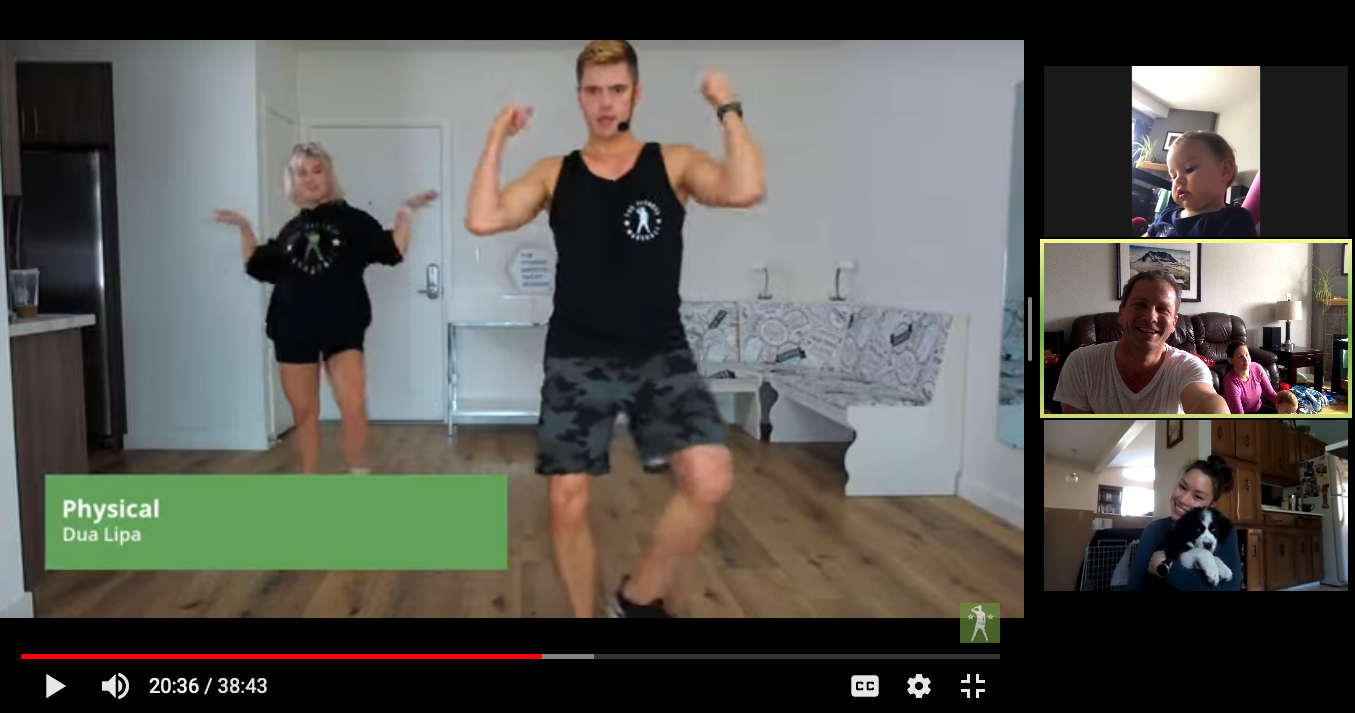 Netflix party and the Toddler Cam are two examples of technology that can foster real, human connection, but we know there are more. Realizing the potential for using technology to foster real-world connection is one of the main reasons we started Learn Leap Fly. For example, we designed our learning software, Kasuku Stories, to be usable by several people at once so that people can interact in real life (whether that be several kids, or kids and their parents). We even have a name for it: Social Software.
We know that these are tough times, and we thank you for all the sacrifices you are making in practicing physical distancing. We encourage you to find your own creative to use technology to remain connected with each other, and we'd love to hear about it! If you come across any great pieces of social software, or have any fun tricks of your own to connect socially during physical distancing, drop us a line and let us know.
[Note: If you're using Zoom for your video chats, please upgrade immediately. Zoom recently responded to some glaring privacy issues in their software.]